Blah, why do I always look forward to the weekend, but I always seem to be busier on the weekends than I am during the week? The weekends sure fly by these days, and Monday keeps rearing its ugly head all the time! It's Sunday night so here comes another week full of chaos!!
I'm getting kinda good at posting here every week now, huh? This past week has been alright, just the same bullshit as always: work work, mommy work, housework, school work.. do you see a pattern here??
*sigh*
I used to be lazy as shit, but now I don't even have time to be lazy. I miss being lazy! I would like just 1 day,
ONE!
where I have nothing to do, and could just sit around in my pjs all day watching TV!! Yeah, that would be awesome, wouldn't it? .. At least until I woke up from the dream to three screaming kids. Reality sucks sometimes!!
My grandma is not doing well. She's been in an assisted living place for 6 1/2 years now, but over the last year she has really gone down hill. Her doctor decided it was time for her to go to the nursing home part of the facility. She's not happy.. at all. She told me that she has no say in her life anymore and that she wants to just jump out the window. OMG that shit makes me wanna cry to hear her say stuff like that. I really don't think it will be long now. I think she is finally giving up. Her last tiny bit of freedom will be gone as soon as she gets moved. We assumed that they would make her move soon, and we always said that if they made her move there she wouldn't last long. I know when she is gone it is going to be damned hard on me, but I know she is sick of living. She's in pain all of the time, has an infection in her leg, her eyesight is almost gone, she can't get up from the sitting position. She said once it took her 3 hours to get off of her couch! I guess after 97 years, you do get tired of living...
I have my Anatomy final this week, on Thursday. I'm not too worried about it just because I have an A in the class, so even if I fail the final, I will still pass, lol. This class is hella hard, but I'm learning a lot! Just wish I didn't have to deal with some of the dumbasses at the school, but dumbasses are everywhere; there's no escaping them. You can try, but dumbasses are always just around the corner.
The random pic of the week is of my kids fishin.. and it was taken this morning. We tried to go fishing, but it didn't go too smoothly. The kids were acting up (like always) and just kept screaming and yelling, even after we told them 234508145 times not to be so loud because they would scare the fish away! Then it started raining and thundering. So, we really didn't get much fishing done. I love going fishing, but I don't seem to be very good at it. Last year I caught like ONE tiny little fish. I had some bites today, but no takers. They don't like me. Maybe it's my pink and purple fishing pole? Or maybe it's my screaming little brats that scare them all away? Maybe I can use one of them for bait?? Ehh, probably wouldn't catch anything with them for bait, they fart too much and would scare the fish away.
*sigh*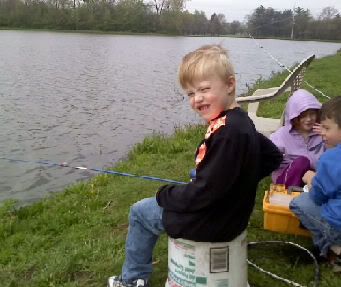 Oh, and I wanna just say that I'm sick of these stupid ass people that keep leaving comments on my blogs. It's not just this one, it's my other ones, too. It's a comment that will all be in japanese. This is not Japan! The entire blog is in English! If you can't leave a comment in English then don't bother! I will just delete it anyway!! The japense writing is usually a link, but I won't and don't click on it. Fuck you for wasting my time with your stupid ass japanese symbol thingies!
Hey, if you look over there on the side bar, there's a link to my facebook page, go ahead and add me, and just let me know that you added me from my blog so I don't deny you! TTFN! (ok, yes I DID Just read my kids a winnie the pooh book for their bed time, lol)